The report of 2022 Europe tour ~ Vol.4 in Dusseldorf
Hello friends, this is the report of vol.4 " in Dusseldorf". We hope you enjoy it.
////////////////////////////////////////////
From Berlin to Dusseldorf, we took an express train DB.

it took about 4 hours and it delayed to get to Dusseldorf.

It is very interesting for me that a fare varies depending on when you book, time of riding, etc.

sometime you can get ticket very cheap price at early booking discount.
We stayed at WELTKUNSTZIMMER in Dusseldorf.
We happened to know it on the streaming program of the show of PYROLATOR.

They broadcasted it and It was so nice program and I contacted them, Norman gave back to me.

Norman is the staff of WELTKUNSTZIMMER, this time I tried to ask him for our performing there, he answered it was impossible but fortunately, they could offer our staying as guests.

So we started to search venues. However we have few information about Dusseldorf, Norman kindly helped us booking shows, gave us much information, finally we could book the show at WP8, super nice venue.

We really appreciate him for everything!

We got Dusseldorf, my first impression was that it was similar to a city of Japan, it is like an industrial city. And also there are many Japanese companies and often saw Japanese office workers in Dusseldorf.
The first time of meeting Norman, I felt like we were old friends I don`t know the reason why but we had much conversation at messenger, so I might feel that. ( I will post pictures next time) He was very kind and very quick speaker, fast walker, sometime I could not get him but tried to hang on for my life, so we could arrive at WELTKUNSTZIMMER so fast, perhaps. Definitely it locates near the central station of Dusseldorf.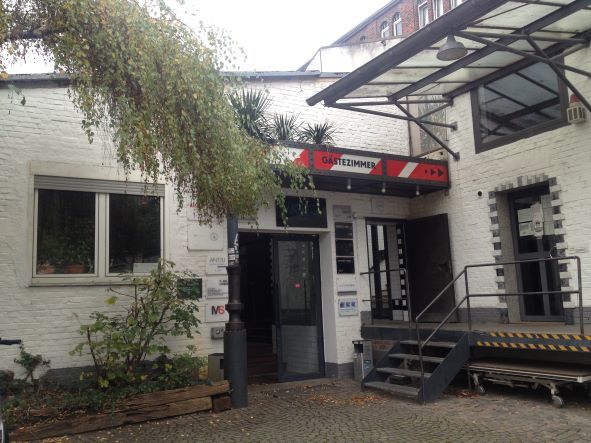 There are many buildings in WELTKUNSTZIMMER, formerly it was a baking factory, they have music halls, guests room for staying, studios, rehearsal room, cafe, car garage, and more, wonderful place for artists.

Norman gave us a nice room, it was enough for doing everything.

We had a nice room mate, he was Rainer, he helped us everything for staying there, and very kind people and with sweet dog, too.

While I checked our instruments, got the idea to go to the great abbey of Sankt Hildegard.
checked the train, it was about 3-4hours train ride and 45min walk from Rudesheim am Rhein station to the abbey, judged we can go, got ticket. But for foreigners, it was tough to pay by foreign credit card, often can not use it, so it took a half day to book train ticket on website.
From the station, we lost sometimes, it took 1.5 hour walking to get there. It was worth to visit. Fortunately we could attend noon divine service, it was awesome, super beautiful spiritual choir, deep echoes like falling from the top of the ceiling. I have never experienced it, it was so precious and amazing. I recorded it.


Kyra did song hunting at vineyard.

To be continued.......
NEXT POST →
------------------------------------------
ICHION is the Japanese experimental and NEO spritual music duo unit.

実験的ネオ・スピリチュアルユニット【イチオン】
関連記事